In an effort to keep our associates and customers safe and healthy, we will be implementing new operating hours and procedures which will go into effect
Monday May 11th, 2020.

New Hours
Monday through Thursday
7:30am to 4:00pm
Friday
7:30am to 3:00pm
Procedure
COME ON IN! WE ARE OPEN FOR BUSINESS!
Due to the COVID-19 pandemic, we are reducing personal contact by temporarily establishing new hours and procedures for you to acquire the materials needed for your job. Starting Monday, May 11th, we will be accepting walk in customers at our City Counter and phone orders.
7:30am to 4:00pm, Monday-Thursday
7:30am to 3:00pm, Friday
We appreciate your patience and understanding!
Deliveries
Deliveries will be coordinated upon receipt of order. We will accommodate as much as possible.
Orders for Pick up (will call)
Orders for pick up will be taken by phone or email between 7:30am and 4pm, Monday through Thursday and 7:30am and 3pm on Friday.
————————————————————————————————————————————————————————————-
We serve all states including Kansas and Missouri. Also Overland Park, Shawnee, Westport, Hyde Park, Southmoreland, The Country Club Plaza, Brookside, Blue Springs, Independence, Lee's Summit, Lafayette County, Cass County, Independence, Blue Springs, Raytown, Lees Summit, Grain Valley, Oak Grove, Sugar Creek, River Bend, Lake Lotawana, Lone Jack, Greenwood, Unity Village, Buckner, Pleasant Hill, Bates City, Odessa, Lake Tapawingo, Olathe, Leawood, Lenexa, Prairie Village, Gardner, Merriam, Mission, Roeland Park, Fairway, Lake Quivira, Mission Hills, Mission Woods, Westwood, Westwood Hills, Platte County, Clay County, Kansas City, Missouri, Smithville Lake. Northland, Parkville, Kearney, Liberty, Platte City, Gladstone, Riverside, Smithville, North Kansas City, Weatherby Lake, Wyandotte County, Kansas City, Kansas, KCK, KCMO, Fairfax Industrial District, Village West, Cass County, South Kansas City, Harrisonville, Belton, Loch Lloyd, Peculiar, Raymore, Leavenworth, Lansing, Douglas County, Lawrence, Shawnee County, Topeka.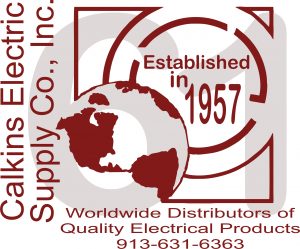 2020 is Calkins Electric Supply Co., Inc.'s 63rd anniversary! We are at the same location in Shawnee that Carl Calkins opened in 1957.
In 1957, Carl Calkins set out to accomplish one thing: to become the first electrical supply distributor in Johnson County, Kansas. His reputation for hard work and integrity spread quickly throughout not only Johnson County but the entire Kansas City metropolitan area including Kansas City, Lee's Summit, Raymore, Peculiar, Parkville, North KC, Belton, Independence, Raytown, and Grandview in Missouri as well as Shawnee, Mission, Shawnee Mission, Merriam, Lake Quivira, Bonner Springs, Lenexa, Olathe, DeSoto, Roeland Park, Overland Park, Gardner, Prairie Village, Mission Hills, Stilwell, Spring Hill, Lawrence, Topeka, Eudora, Baldwin City, Leawood and more in Kansas! We ship UPS daily from our Shawnee warehouse to any location in the USA or Canada.
Today, the 4th generation of Calkins' maintain the same philosophy that their Grandfather instilled in the organization. Although we have become a nation-wide distributor, our Midwestern company traditions remain the same: give the customer the right combination of price, quality and service, for the best value in the electrical industry.
With our eyes on the future, we will continue our tradition of bringing quality electrical products to our customers whether you are an electrician, industrial user or retail customer and we will lead the industry in value, unsurpassed quality and service for decades to come. And rest assured, we will always strive to be the best place on the planet to fulfill your electrical needs.